OK, while I'm on the 70's, I may as well post a bit of Slade. Slade were my band when I was a lad. I was 12 when Coz I Luv You was performed on Top Of The Pops and I was hooked. Back in the early 80's a guy I worked with told me that Slade had taken The Reading Festival by storm and I was back out buying the missing singles. It's always been a bugbear to the fans, that Slade never performed a ' final concert' before splittin up in 1991.

When I first realised Slade were on the internet this was one of my first reads. I love this daydream about the 'farewell tour', pure fantasy of course but, if only? Last year I was fortunate enough to play the music in between events at Sladefest 2007 (yes, really! It's an anual event in Wolverhampton) and as a challenge I tried to recreate the dream gig.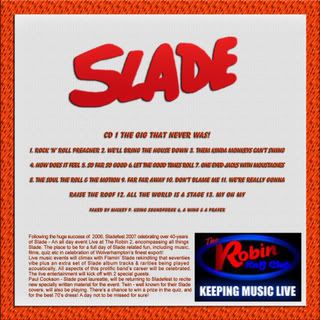 This is how it came out?
Rock 'N' Roll Preacher
We'll Bring The House Down
Them Kinda Monkees Can't Swing
How Does It Feel
So Far So Good
Let The Good Times Roll
One Eyed Jacks With Moustaches
The Soul, The Roll & The Motion
Gudbuy T'Jane
Far Far Away
Don't Blame Me
We're Really Gonna Raise The Roof
Burning In The Heat Of Love
It's Alright Buy Me
All Of The World Is A Stage
My Oh My
The Download Link is here:
Download
Filename: Size: 77.53 MB
If you like it, pop over to
Bilston
on Easter Sunday and hear it on the big system?